Trump-era Education Secretary Betsy DeVos suggested that President Joe Biden would be far more in favor of due process being granted to college students accused of sexual harassment/assault if he was held accountable for his own alleged misbehavior, including his alleged misbehavior toward her.
Writing for the Daily Mail on Thursday, she recalled the "uncomfortable" time that she met then-Democrat presidential candidate Biden at the National Conference of Mayors in D.C. three years ago.
"I was in a wheelchair after a devastating biking accident. My trusty assistant was pushing me around — literally. I was waiting in the 'back of the house' area of a hotel ballroom for the freight elevator to take us to the ground floor when former vice president Biden came barreling out of a side room," she wrote.
"How are you doing? Do you have any hardware?" he asked her.
She replied that she had a three-inch screw because of the accident.
That's when the encounter with him suddenly turned "uncomfortable," as has happened with many girls and women who've had the unfortunate experience of coming face-to-face with Biden.
'It's not normal': Biden's 'creepy' approach of annoyed little girl at WH turkey pardoning quickly rebuffed https://t.co/nsb0oPR9oS pic.twitter.com/v4sM3o5bq2

— Conservative News (@BIZPACReview) November 21, 2021
"Biden leaned down, put his hands on my shoulders, and pressed his forehead to mine. He lingered. As I tried to figure out how I could roll the wheelchair and myself away, he said, 'I have nine screws in my shoulder. But everyone thinks they're in my head,'" according to DeVos.
Now imagine if, instead of being one of the most powerful men in the world, Biden was just an overly friendly male college student. What would happen?
"I think about that encounter every time I hear Biden talk about dismantling our reforms of Title IX. I am not equating my experience with those of other women, who have accused Biden of disturbing behavior. But it is worth asking: If Biden behaved that way on a college campus, how would he like to be judged by the rules that he seeks to impose on others?" DeVos continued.
He'd likely immediately be judged guilty of sexual harassment without any chance to tell his own side of the story — which is exactly what happened to a young black man named Joseph who got caught up in the Obama-era Title IX rules that DeVos eliminated but Biden now seeks to reinstitute.
"He is a Navy veteran and had been a student at Savannah State University (SSU), who was just three weeks away from becoming the first person in his family to graduate from college. He woke up one morning in 2013 to find an email from the Office of Student Affairs," DeVos wrote for the Daily Mail.
"You are hereby summarily suspended and if you step foot on campus, you get the threat of expulsion and arrest," the email read, Joseph recalled in his own words.
"The email was followed by a campus-wide alert with Joseph's picture, urging anyone who saw him on campus to report it to campus security. Joseph had no idea what he had been accused of. He had never been contacted by the university about any accusation or any investigation, much less any conviction," DeVos continued.
Something similar happened years later to Marcus Knight, an autistic black man: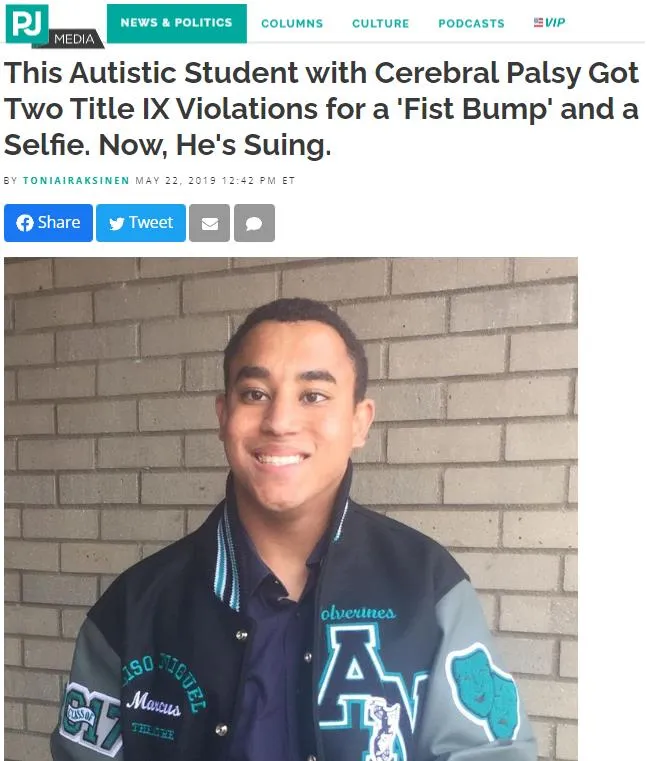 It's a pernicious trend that stopped only after DeVos' Title IX rule changes took effect in 2020.
"While I served as education secretary, we spent three years deliberately producing a regulation to undo the kinds of unfair and unnecessary damage students like Joseph endured. It was built on two solid foundations," DeVos explained.
"[F]irst, ensuring schools didn't allow sex discrimination or sweep misconduct under the rug, so that every student could achieve the Title IX's promise of equal access to education; and second, creating fair adjudication procedures, rooted in due process, for everyone involved."
But with Biden now in office, he's preparing to nix her changes. As a result, schools will "no longer need to provide hearings for accused students to cross-examine their accusers," and accused students will no longer be "guaranteed access to the evidence against them," according to Reason magazine.
And this isn't right, DeVos concluded.
"The newly proposed Biden regulation would do away with almost every single one of these common-sense provisions, returning to the shameful Kangaroo court days that marked the Obama-Biden Dear Colleague Letter," she wrote.
"Their proposed rule doesn't even require a formal complaint, or that the alleged victim agrees that he or she is indeed a victim of anything at all, for the school to start imposing disciplinary actions."
Reiterating what she'd said earlier about Biden's own alleged misbehavior, she added, "It makes one wonder how President Biden himself would fare if some of his documented behavior toward women, including toward me, had happened on a campus and was subject to his preferred regulatory scheme?"
Indeed.
Second Biden accuser comes forward https://t.co/jBDlTaKj4Q via @BIZPACReview

— Bo Snerdley (@BoSnerdley) May 2, 2020
DONATE TO AMERICAN WIRE
If you are fed up with letting radical big tech execs, phony fact-checkers, tyrannical liberals and a lying mainstream media have unprecedented power over your news please consider making a donation to American Wire News to help us fight them.
Thank you for your donation!
Latest posts by Vivek Saxena
(see all)
Comment
We have no tolerance for comments containing violence, racism, profanity, vulgarity, doxing, or discourteous behavior. If a comment is spam, instead of replying to it please click the ∨ icon below and to the right of that comment. Thank you for partnering with us to maintain fruitful conversation.