Fox News host Harris Faulkner had little patience for a climate alarmist's Chicken Little routine while defending climate czar John Kerry's jet-setting, and slammed her for arguing the sky "is falling."
(Video:Fox News)
The former secretary of state and one-time Democratic presidential candidate has remained adamant that he isn't a hypocrite when it comes to his travel arrangements while calling for others to prostrate themselves to the whims of environmental activists. Friday, he had sat down for an interview where he denied claims that he flew private and defended elites who did, because "They buy offsets," before he re-upped demands that regular folk get with his program.
Monday on "Outnumbered" his former communications adviser Marie Harf demanded Kerry's warnings be heeded and said, "We have to address this and you may not like John Kerry, but his message is one we have to listen to."
"We have to do something. These massive weather events we're seeing, this heat we've seen across the world — the globe — these heatwaves that are killing people. We have migrants that are not able to have any place to live, anything to eat, because of our changing climate," she argued.
After Kayleigh McEnany shot down Kerry's credibility by pointing out his 2013 claim that the arctic would be ice-free by summer 2018, which did not happen, Harf tried to push back when Faulkner interjected.
"There are a lot of people on your side of the aisle that have been saying the sky is falling with no direct way to keep it from hitting the ground," she said with a shoutout to Rep. Alexandria Ocasio-Cortez (D-NY). "By the way, it isn't falling. Things are changing. The world is always changing."
"It is falling actually," the progressive panelist said. "This climate is going to change life as we know it."
Faulkner wouldn't have it though and, instead of going after the facts of her argument as McEnany had, she blasted Harf's alarmism itself and chided, "Marie, when you panic people, you don't inspire them to change. You don't give them transition points."
"Don't do this, don't do that," she mocked before saying, "If anybody is causing a panic it's your side of the aisle because you think we only have a few more years to live."
"But we're right on this," Harm insisted.
"No, you're not right," Faulkner exclaimed. "Alexandria Ocasio-Cortez was not right with her 12 or 13 years. It's been that. We're still here."
Undoubtedly, the argument fell on deaf ears as the cataclysmic ice age, err, meltdown, um, climate change that has been predicted decade after decade has not come to fruition and even led global eco-grifter Greta Thunberg to reportedly delete a 2018 tweet that argued, "A top climate scientist is warning that climate change will wipe out all of humanity unless we stop using fossil fuels over the next five years."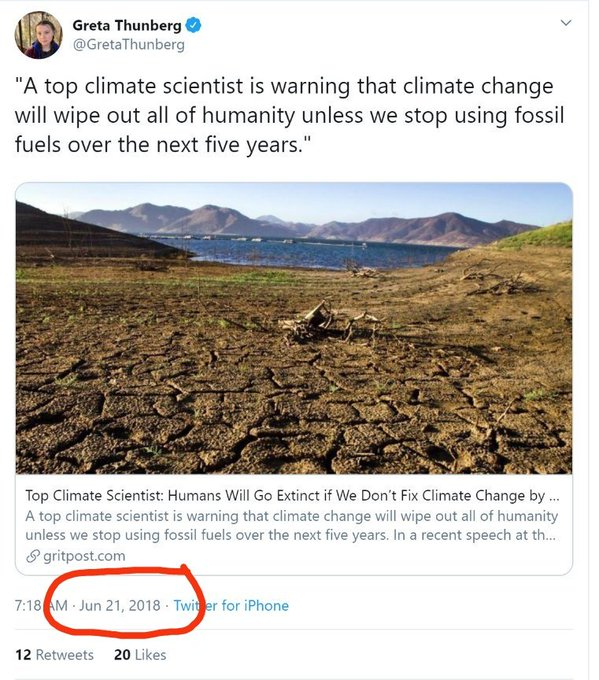 DONATE TO AMERICAN WIRE
If you are fed up with letting radical big tech execs, phony fact-checkers, tyrannical liberals and a lying mainstream media have unprecedented power over your news please consider making a donation to American Wire News to help us fight them.
Thank you for your donation!
Latest posts by Kevin Haggerty
(see all)
Comment
We have no tolerance for comments containing violence, racism, profanity, vulgarity, doxing, or discourteous behavior. If a comment is spam, instead of replying to it please click the ∨ icon below and to the right of that comment. Thank you for partnering with us to maintain fruitful conversation.