Military doctors are promoting the idea that children as young as seven can consent to chemical castration and physical mutilation and are seeking support from the Department of Defense (DoD) in violating state laws, according to a new report.
Along with the growing number of children suffering from gender dysphoria through increased exposure to content from alphabet activists and peer pressure, there has been a growing departure from fact-based science in favor of "affirmation." Such was the case in a piece compiled for a recent edition of the American Journal of Public Health by DoD network doctors.
Titled, "Caring for Military-Affiliated Transgender and Gender-Diverse Youths: A Call for Protections," the piece kicks off by dismissing the notion of gender dysphoria and instead accepting that a child suffering from it is automatically correct in their assertion.
To that end, authors David A. Klein, Thomas Baxter, Noelle S. Larson and clinical psychologist Natasha A. Schvey present that the only path for military member kids who present with gender dysphoria is "gender-affirming health care, such as puberty suppression and affirming hormones."
Considering it a matter of "human rights," they argued that children "have an inherent ability and right to consent to gender-affirming therapy."
"Some well-intentioned military-affiliated clinicians may not be aware that a 'watchful waiting' approach has a different risk profile than a gender-affirmative approach (which allows for gender identity exploration), and that 'conversion therapy' is unethical, harmful, and generally illegal," they wrote.
Challenging the notion presented in the article, Fox News reported 53 percent of military-affiliated physicians in the DoD health system said they would refuse prescribing hormones. Additionally, Dr. Stanley Goldfarb of Do No Harm told the outlet, "The notion that 7-year-old children are capable of such decisions is beyond laughable."
"The existence of a large, perhaps as much as 25% cohort of 'detransitioners,' suggest the folly of assuming the soundness of childhood decisions," he added. "Just because a child states that they understand the implications of gender transitioning does not mean that they can conceive of their future regrets."
However, Goldfarb's position was exactly what Larson, a pediatric endocrinologist at Walter Reed National Military Medical Center, and the others, all employed at Travis Air Force Base in California were pushing against.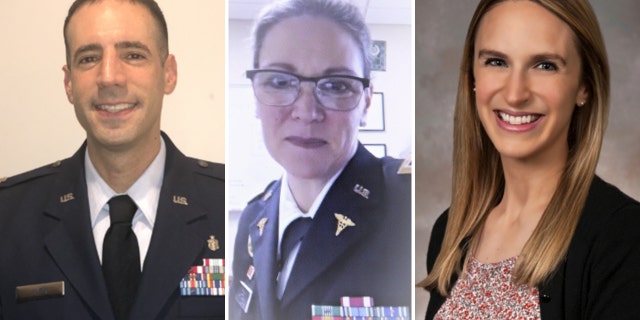 Images: Uniformed Services University – Walter Reed National Military Medical Center
"Patients may face 'gatekeeping' and major delays in care, including protracted and pathologizing psychiatric evaluations that question patient motives," they wrote and argued, "[L]aws [banning transgender drugs]…assume that [gender diverse] adolescents and their parents are incapable of understanding the risks and benefits of gender-affirming medical care and then deciding what is in the youth's best interest."
"Prior research has found that children can begin participating in their medical decision-making as early as age seven years with gradual increases in decision-making capacity, and adolescents prefer shared decision-making," they claimed.
Their position was in line with Assistant Secretary of Health for the U.S. Department of Health and Human Services Rachel Levine, who has used her own position and gender dysphoria to advocate and promote serious and often irreversible medical intervention.
They said it out loud: Biden admin states mutilating children as 'top priority'https://t.co/8F5Qaok1dC

— American Wire News (@americanwire_) March 17, 2023
The authors went on to push for the federal government to intercede in states' rights as these forms of medical interventions have already been banned by law or policy in Alabama, Arkansas, Arizona, Florida, Mississippi, South Dakota, Tennessee and Utah.
"The [Defense Health Agency] should also make a commitment to defending clinicians and families who render gender-affirming care to minors in accordance with DHA legal guidance from prosecution under state laws or policies that criminalize this care," they wrote.
Meanwhile, Goldfarb urged the authors to look beyond their biases and their skewed research approach to data that discredited their suggestions.
"These physicians should [examine] the literature and face the reality that the reason that Finland, Norway, Denmark, and the U.K. have opted to severely restrict the use of puberty blockers and sex-characteristic altering hormones is that we have little if any evidence that we are not hurting more children [than] we are helping," Goldfarb said.
"The article from the military physicians would have to accept an extraordinary claim of capability of children to make an informed decision about life-altering treatment based on interviews of 21 selected participants who were then interviewed by researchers who were apparently fully invested in support of the concept of 'gender-affirming care,'" he argued.
"This is no random study of the attitudes of children with gender dysphoria," Goldfarb slammed, "this descends into propaganda."
DONATE TO AMERICAN WIRE
If you are fed up with letting radical big tech execs, phony fact-checkers, tyrannical liberals and a lying mainstream media have unprecedented power over your news please consider making a donation to American Wire News to help us fight them.
Thank you for your donation!
Latest posts by Kevin Haggerty
(see all)
Comment
We have no tolerance for comments containing violence, racism, profanity, vulgarity, doxing, or discourteous behavior. If a comment is spam, instead of replying to it please click the ∨ icon below and to the right of that comment. Thank you for partnering with us to maintain fruitful conversation.