After Kyle Rittenhouse was acquitted of murder and other charges on Friday by a Kenosha, Wis., jury, that led to a hampering of scientific progress, according to the chemistry department of a university in Virginia.
The series of posts on the official social media accounts of James Madison University included a short "student takeover" video on Instagram featuring a student complaining about the "murdering" of "two beautiful black lives," though the two men killed during the Aug. 25, 2020 incidents were white and the jury found that Rittenhouse had acted in self-defense.
"Reminder: it is hard to focus on science if you are worried you might be legally shot or run over at a protest," tweeted the JMU Department of Chemistry and Biochemistry on Saturday.
The posts recounted shootings of black men that have been lionized by the Black Lives Matter movement and turned into rallying cries for criminal justice reforms.
"It is hard to focus on science if you are worried your loved ones might be killed getting Skittles, or selling cigarettes, or playing with a toy gun, or sitting in their apartment, or jogging, or wearing a hoodie," the posts added, using oblique references to the deaths of Eric Garner, Tamir Rice, Ahmaud Arbery and Trayvon Martin.
"It's hard to focus on science if you're worried you might get deported or if your human rights depend on the outcome of an election. The fight for justice *is* a fight for science," the posts continued.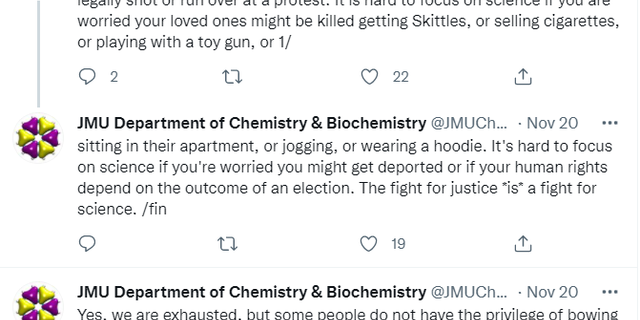 The posts also included a video of an interview featuring Amber Ruffin, a Peacock channel host, in which she inexplicably claimed that the teen's acquittal is an indication that "the judicial system [is] blatantly and obviously stacked against people of color."
The JMU Instagram account includes a video featuring Deaquan Nichols, a student at the school, addressing "the verdict in the Kyle Rittenhouse case."
"We scream 'Black Lives Matter' but it doesn't matter enough for these people who are in power – the jury, the judge, anybody – to charge this man with murdering and taking away two beautiful Black lives," Nichols incorrectly claimed.
The videos and the posts were completely inappropriate and amount to little more than the university "pushing political propaganda," according to Tina Ramirez, a GOP candidate for Congress in Virginia's 7th Congressional District and founder of Hardwired Global, a nonprofit group advocating for religious freedom.
JMU is a publicly funded university that is now pushing political propaganda and misinformation from their social media accounts.

JMU's actions are unethical, as Kyle Rittenhouse was found innocent, and dangerous, as the post pushes false info that could lead to violence. 2/2

— Tina Ramirez (@TinaRamirezVA) November 19, 2021
In a statement to Fox News, a spokesperson addressed the video but not the Twitter posts.
"James Madison University offers 'student takeovers' on social media platforms as an opportunity for our audiences to learn about student activities and research," Mary-Hope Vass said.
"One of yesterday's takeovers went into the personal opinion and viewpoints of a student, which are not necessarily reflective of the university. The video expressing this opinion was removed from the university's social media account," she added.
Rittenhouse was acquitted of killing Anthony Huber, 26, and Joseph Rosenbaum, 36, as well as wounding  Gaige Grosskreutz, 27.
In an interview, Ramirez pushed back on the school's explanations.
"Presuming the guilt of a young man found innocent by a jury of his peers is the antithesis of standing for a fair criminal justice system," she told Fox News. "That JMU allowed this to take place on their official social media accounts, to say nothing of the blatant misinformation, is egregious.
"To see that the school's chemistry department would then double down with more politicized rhetoric is beyond the pale," she continued. "In their posts, they say 'it's hard to focus on Chemistry,' but that is literally their job and what parents are paying thousands of dollars in tuition fees expect them to do.
"This is why I've been so adamant that we need to make school about education again. We should be teaching students how to think critically, not what to think politically," she said.
DONATE TO AMERICAN WIRE
If you are fed up with letting radical big tech execs, phony fact-checkers, tyrannical liberals and a lying mainstream media have unprecedented power over your news please consider making a donation to American Wire News to help us fight them.
Thank you for your donation!
Latest posts by Jon Dougherty
(see all)
Comment
We have no tolerance for comments containing violence, racism, profanity, vulgarity, doxing, or discourteous behavior. If a comment is spam, instead of replying to it please click the ∨ icon below and to the right of that comment. Thank you for partnering with us to maintain fruitful conversation.