Fed-up Oregon residents spoke out as city officials set on "equitably" enforcing flawed laws have seemingly ignored their concerns of the deviant behavior of "squatters" that included at least one incident of "spit blood."
In 2020, a bus stop including oversized parking spots was completed in Eugene, Oregon and, ever since, locals have had to contend with the aftermath. A report from KEZI 9, included one suspected squatter of going so far as to break a lock and park their vehicle on private property.
"The problem is right here where we are standing and the city put double-length parking spots a few feet from our front door," local Laine Radcliffe told the outlet. "It would be great if these two RV-length parking spots were just removed, because I really don't see the point in it. They're camping spots, put right up against our fence."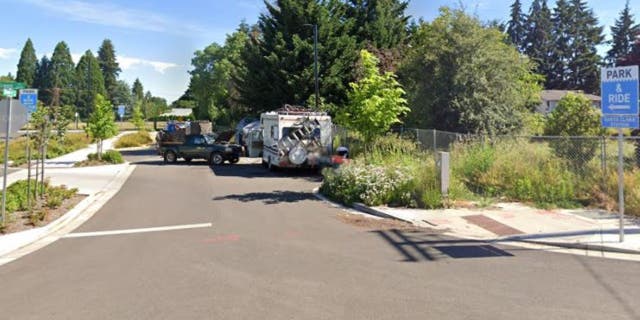 Image: Google Earth
The man described finding occupants of the campers along his fence using needles and performing sex acts not far from the rooms where children sleep and said, "One time someone was doing that, they were just sitting on our fence, and I said, 'dude you need to get off and leave, this is private property,' and he began swinging a metal baseball bat at me and proceeded to spit blood on me."
Donielle Cline told KEZI 9, "I'm always afraid that we might piss the wrong person off by telling them to leave and they might come back and do something like shoot up my house."
"I don't know because I don't know these people," she said, explaining that she had reached out multiple times to the city councilor seeking a change.
Speaking with Fox News Digital, Unhoused Response communications manager Kelly McIver contended that concerns had been addressed while simultaneously acknowledging to the uselessness of the current laws.
"Our team has been to this area before, and the same vehicles have not been in the same place perpetually," he claimed. "City code stipulates that vehicles cannot be stored on the street for more than 72 hours. We rely on residents to report suspected violations, and then our team will respond to mark and warn per code as soon as they are able. Sometimes that may be shortly after a report is made, other times it may be longer because of a high volume of reports in locations across the City."
However, McIver went on to point out the obvious workaround and told Fox News Digital, "Often vehicles will move after being marked, but may move to another street and the process begins again. Sometimes new vehicles will occupy a vacated spot, and the recurring nature is what is so frustrating to neighbors."
"The challenge for the city," he contended, "is that we have to enforce the Code equitably without prejudice for what a person or a vehicle 'looks' like or what things might happen at the location. There is a legitimate need for residents, visitors, businesses, etc. to park on unregulated curbs, so it's not always appropriate to just make areas 'no parking' with an immediate tow."
Meanwhile, Radcliffe argued to KEZI 9, "No one is legally supposed to be camping here, no one is supposed to be giving fellatio in the corner, no one's supposed to be shooting up heroin in plain sight, no one's supposed to be trespassing on our property."
DONATE TO AMERICAN WIRE
If you are fed up with letting radical big tech execs, phony fact-checkers, tyrannical liberals and a lying mainstream media have unprecedented power over your news please consider making a donation to American Wire News to help us fight them.
Thank you for your donation!
Latest posts by Kevin Haggerty
(see all)
Comment
We have no tolerance for comments containing violence, racism, profanity, vulgarity, doxing, or discourteous behavior. If a comment is spam, instead of replying to it please click the ∨ icon below and to the right of that comment. Thank you for partnering with us to maintain fruitful conversation.